December 2022 – 22 Gun & Ammo Raffle
Shelby County Amateur Radio Emergency Services is in the process of having a fund raiser. We are accepting a $20 donation per ticket, now thru November 30th 2022. Starting Thursday, December 1, 2022 thru Friday, December 30, 2022, Monday thru Friday only, Shelby County ARES will give away the prize listed for that date, to the ticket holder whose 3 digit ticket number matches the Ohio Pick 3 Lottery EVENING drawing, for that date. Ticket number must match exactly.
Each ticket can win every drawing if your ticket number matches the winning pick 3 drawing for that date.

You must be 21 years of age and Eligible to purchase a firearm to obtain a ticket. The persons name on the ticket must be the person to pick up the prize.
Guns supplied by: Tactical Solutions Firearms & Accessories 937-492-4867.
1000 Tickets or Less sold
www.shelbycountyohares.com
Prizes have been purchased and set aside.
$20.00 DONATION per Ticket
Please email Grant Reed, at greed@woh.rr.com for tickets. I will respond as soon as possible
Thanks for your support and GOOD LUCK !
Raffle Winners
Dec. 01, 2022
Dec. 02, 2022
Dec. 05, 2022
Dec. 06, 2022
Dec. 07, 2022
Dec. 08, 2022
Dec. 09, 2022
Dec. 12, 2022
Dec. 13, 2022
Dec. 14, 2022
Dec. 15, 2022
Dec. 16, 2022
Dec. 19, 2022
Dec. 20, 2022
Dec. 21, 2022
Dec. 22, 2022
Dec. 23, 2022
Dec. 26, 2022
Dec. 27, 2022
Dec. 28, 2022
Dec. 29, 2022
Dec. 30, 2022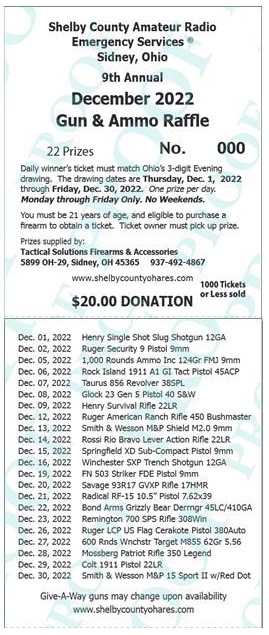 Thank You All for your support! 🙂